Celebrating our amazing volunteers
Volunteers are at the heart of Healthwatch Brent's work – so during volunteers' week we wanted to take the time to say thank you for everything that they do.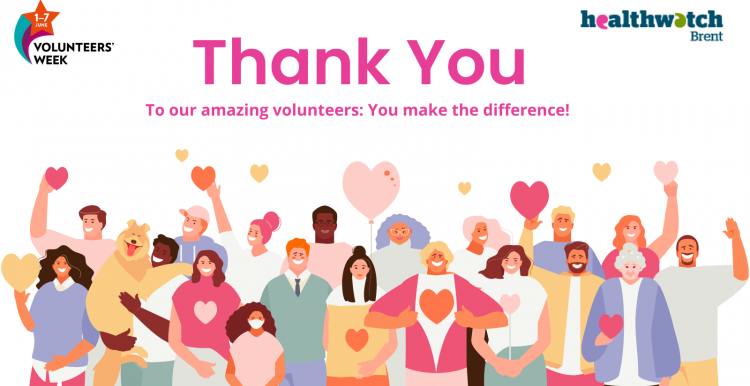 Our volunteers give up their time and share their skills because they believe in our mission of improving health and social care across Brent. They help ensure that our projects are designed with the voice of the community at their heart, carry out enter & view visits to local care providers and support our engagement work. Volunteers also sit on our Advisory Group, where they play a key role in prioritising our work, so we can focus on the things that matter most to people in Brent.
Many of Healthwatch Brent's volunteers have been with us for several years, watching our service develop and getting involved in lots of different projects. Read our recent interview with Mary and Margaret – two of our longest serving volunteers – to find out more about the people behind our volunteering team, and their experiences of working with Healthwatch.
This year we have also been delighted to welcome several new volunteers, and to start creating Young Healthwatch Brent so that younger people can have an opportunity to build their skills and make an impact on their local area. You can find out more about Young Healthwatch here.
Healthwatch Brent manager Jo Kay said: "Our volunteers are so important to the work that we do, not only giving us their time but also bringing a wealth of expertise and experience, as well as links to the local community. We really value the work that they do, and want to say a big thank you to all of our current volunteers as well as the people who have supported us in the past."
Interested in joining the team? We're always looking for new volunteers, and there are lots of opportunities to get involved with different types of work. Find out more here.