Meet Mary and Margaret - two of our longest-serving volunteers
Meet Margaret and Mary, two of Healthwatch Brent's longest-serving volunteers.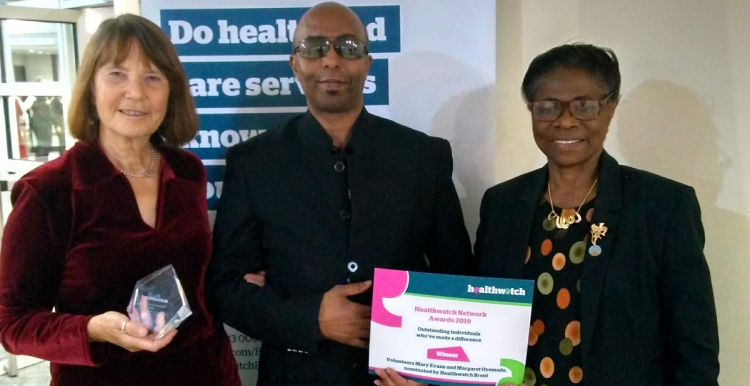 Volunteers are at the very heart of what we do, making much of our work possible – and Margaret and Mary are certainly no exception. Having volunteered with the organisation for several years, they've both made a real impact on the community, directly driving improvements to local services.
We met up with them to find out more about their time as volunteers.
What is your connection to the Brent area?
Margaret: I've been living in Brent for the past nineteen years, and live in the Wembley Park area. It's nice to be in the middle of an important part of the borough. We're behind the old town hall, right in the centre of Brent. It's great to be near the stadium, in an area where there's a real buzz from all the visitors.
Mary: I was born and brought up in Brent, and lived in Kingsbury for many years as a child. It was great – we were surrounded by families with children and could spend our time just playing outside. It was a great place to grow up. Then I moved around various parts of London, and returned to Brent in 2006.
What sparked your interest in Healthwatch Brent?
Mary: I've volunteered with different organisations for many years, and find that it really gives you a sense of purpose and something to focus your time on – especially after you've retired. When I heard about Healthwatch Brent I thought it would be interesting to do something different, and now I've been a part of the team for three or four years. My background is social work, so this role is very relevant to me.
Margaret: I've been with Healthwatch Brent since it started, all the way back in 2013. I had previously been working with Age UK, and found out that Healthwatch would be starting as a new service. At that time, I was given the option of different roles and was really intrigued by 'Enter & View' – the opportunity to go and visit service providers and see what they are doing.  As a retired care assistant, I know how important these environments are and can easily see what they lack. It has been a really good opportunity for me to be able to visit these care homes and services and suggest improvements.
You were both part of a project that won a Healthwatch Network Award in 2019 – could you tell us about the project and what the experience was like?
Mary: We visited the awards ceremony in Birmingham, and went out for dinner to celebrate – it was a great occasion. The project was related to sheltered housing. The housing we visited was having problems with drug users coming using the area as a space to use drugs and harassing the residents. We found that people living there were very scared, and even carried out some of our interviews through locked doors as the people were not comfortable leaving their rooms.
We learned a lot about what was going on in the facility, and we were able to use this information to encourage a range of improvements.
Margaret: Intruders had been breaking in and leaving rubbish. We asked the service to install a security door, to ensure that only people who lived in the housing could get in. They also installed CCTV to help keep the residents safe. It was excellent to win the award and know that we had been able to do a good job on that day.
How does it feel to carry out these visits?
Mary: Luckily most of the visits we carry out are to places that offer a reasonable standard of care – we may see things that can be improved and recommendations for changes, but we rarely go somewhere that is as bad as the sheltered housing that we visited. It's also very interesting, having the opportunity to speak to people and hear what their views are.
Margaret: It was upsetting to visit the sheltered housing and see that people were living in fear. However it made me so happy to see the changes that could be made as the result of our work.
Are there particular health or social care issues that you hope to address through your volunteering?
Mary: There is a lot of homelessness in Brent, which is something that really bothers me. We know that a lot of the services helping homeless people have been shut down, particularly during the pandemic, and it's a real concern.
Margaret: Not being able to see a GP face to face since the start of the pandemic has made things really difficult. I understand that it's not their fault, but for many older people it can be difficult to see a doctor if the services are only available online. Some people don't even have a phone that has the features needed to access online services. Everything has moved online – ordering prescriptions, booking appointments, and it's not always possible. It's particularly difficult for elderly people who do not have younger relatives to help them. (Find out more about how we're addressing GP access issues here.)
Have Mary and Margaret sparked your interest in volunteering? You can find out more about our volunteering opportunities here, including information about the different roles available and how to apply.