Emergency Care in Brent: Patient Experience Report
People in Brent shared their experiences of using urgent and emergency services.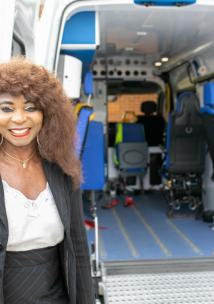 Overall, our research found that people had a positive experience using urgent and emergency care services in Brent. The people we spoke to had used a number of different services including ambulances, A&E, 999, 111 and urgent treatment centres. We spoke to 47 patients, and collected 108 service ratings.
From the feedback, we have identified four priorities to feed into the London Ambulance Service strategy for 2023-28: 
1. Work with hospitals to improve the process of transferring patients from ambulance to hospital care.
2. Maintain high quality of care provided by ambulance staff when attending patients.
3. Ensure that training is in place to provide appropriate levels of support from 999/111 call handlers, including providing information about where to seek alternative treatment.
4. Ensure appropriate training or support is in place for responding to mental health related calls.
Download the full report below, or share your own views here. 
Download the report
Please contact us if you would like a copy of the report in a different format (such as easy read) or language: info@healthwatchbrent.co.uk