Working on what matters to you
We have set our priorities for the year ahead.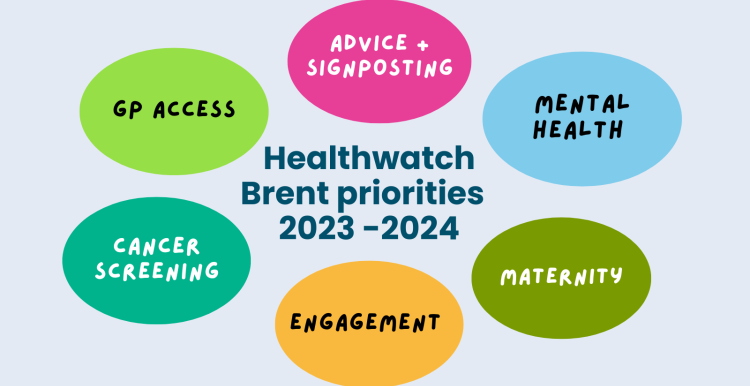 Every Spring, we decide our key priorities for the coming year. This is based on what you tell us you'd like us to focus on, as well as information that partners share about key issues in Brent. You can download a full overview of our priorities for 23-24 at the end of this article. 
Our key projects and priority areas
Mental health

GP access

Maternity services

Cancer screening

Developing our information and support service in key areas such as Harlesden, Stonebridge and Kensal Green
How you can get involved
Are you interested in any of the topics above? We would love to hear from you! You can get involved with focus groups, share your feedback, or let us know what you think we should be focusing on. Simply get in touch with the team, or share your feedback through our survey.
You can also sign up to our email newsletter for updates about projects and upcoming events.
Making sure we get our priorities right
We work with a team of local experts by experience, our Advisory Group, to make sure that our priorities make sense and address the real issues facing people in Brent. Their experience comes from a wide range of areas – such as working within the health and social care sector, running a community group or being a patient/carer living in Brent. 
All of our priorities are signed off by the advisory group, based on the data that we share with them and their own local knowledge. The group also share their expertise and insights and help us connect with key local contacts. If you are interested in being part of the advisory group, you can learn more about it here.
Read more about our 23-24 priorities